Printing has remained vital throughout the years. However, most businesses continue to rely on traditional printing servers that are only accessible within the organization.
Traditional printing yields poor quality, paper jams, and sluggish performance. Your company is losing money because of these issues. Aside from the high repair and maintenance costs, the costs of ink, toner and paper continue to rise year after year. The more errors the printer makes, the more money you spend, and the cost rises.
Moreover, it is also advisable to prepare your company for the changing demands and conditions of this fast-paced world by breaking down traditional office barriers and transforming your office into a productivity hub.
Now is the ideal time to maximize your productivity with a multi-function printer.
---
What is a multi-function printer?
A multi-function printer is a type of office machine that combines the functions of multiple devices into a single device. It has been in existence for some time, but its capabilities are constantly evolving to meet today's stringent business requirements.
These devices allow you to not only print from your computer but also scan existing documents and copy or save them as files.
---
Benefits of a multi-function printer
A multi-function printer, which can handle multiple office tasks in one compact device, can make your life easier. They provide all the necessary document solutions in an easy-to-use format for most modern offices. There are numerous benefits to having a multi-function printer in the workplace that are frequently overlooked.
The following are four significant benefits that a multi-function printer provides to corporate businesses:
Saving Space. Businesses tend to upgrade their devices at different times. It is common to use discrete devices around the office to complete tasks. Desktop printers or scanners may be connected to individual workstations as part of this. It could also imply having dedicated copy rooms where large, noisy machines can run indefinitely without causing disruptions in the office.
Investing in a multi-function printer can reduce the space needed while also saving the company time and money.
Convenience. The multi-function printers have numerous features that aid in the improvement of all document-related processes. Employees can speed up their workflows by the printing or scanning a document in one multi-function printer, and there is no need to walk between different devices to complete a task.
It also reduces administrative costs because the company only needs to maintain one device for all its office workflows rather than multiple machines.
Lowering the Costs. The cost of running multiple devices can quickly add up. It can include power consumption, supplies, and the frequency with which service or maintenance tasks are performed.
The multi-function printer can help the company to lower its operating costs with an energy-efficient device, which also uses less ink for each copy or print job.
Increased Productivity. With onboard document management features, newer multi-function printers can help increase productivity. With detailed logs for each print, the company can also improve the oversight of its print operations. Furthermore, the most recent multifunction printers include advanced security features to safeguard data during transit and storage. The right device will be determined by how the office executes its workflows.
---
Introducing Konica Minolta Bizhub i-Series MFP
We at Data Connect Technologies, in collaboration with Konica Minolta, strive to deliver the best product to improve your efficiency and productivity workflow as you work toward your business objectives.
With that in mind, we are excited to introduce the modern workplace of the future, which will take your company to a whole new level. The new Bizhub I-Series MFP, a simple and smart multi-function printer, guides you to a secure yet productive path.
From printing to collecting data for self-diagnostics, to performing remote monitoring and even calculating the optimum time to replace parts and consumables to minimize downtime, Konica Minolta's Bizhub i-Series multi-function printers are your next-gen printer designed for reshaping tomorrow's workplace.
The multi-function printers from Konica Minolta have a variety of features that businesses can use to improve their printing, copying, and scanning environments. The benefits of multi-function printers can range from improved performance to higher print quality. The i-Series product line includes dependable technology hubs for organizations of all sizes and industries.
---
What sets Konica Minolta Bizhub i-Series MFP apart?
Konica Minolta bizhub i-Series multi-function printers are useful for many reasons, including cost savings, convenience, and control over printing capabilities.
The bizhub i-Series has several distinguishing features, which are as follows:
Utilizes simplicity- With new technologies emerging daily, user intuitiveness is a top priority for both businesses and individuals. It makes it easy for users to navigate the app by incorporating coherence and continuity into the design.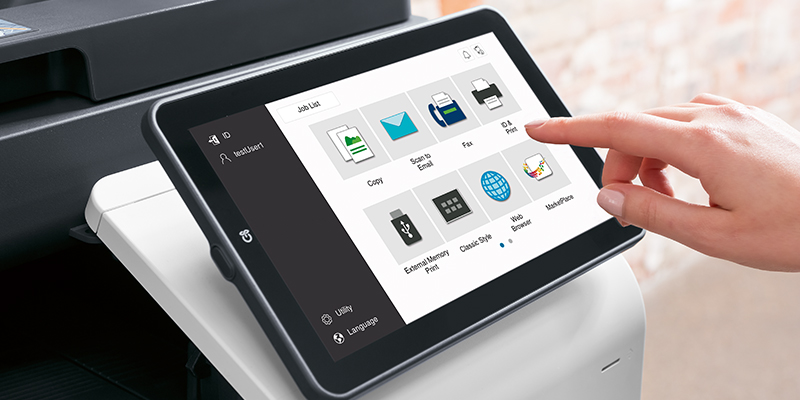 The i-Series multi-function printers are all equipped with a touchscreen and a streamlined interface. Users can easily get the job done right away by modeling a smartphone-style interface with apps and commonly used functions.
The Japan Institute of Design Promotion awarded the C360i/C300i models the Good Design Award 2020, citing the highly intuitive interfaces and user experience.
The bizhub i-Series is simple to use and makes everyday tasks easier.
Improves security- One of the most significant drawbacks of incorporating new technologies and devices into business use is the lack of cybersecurity standards. In the same way that technology must be user-friendly, it must also be secure.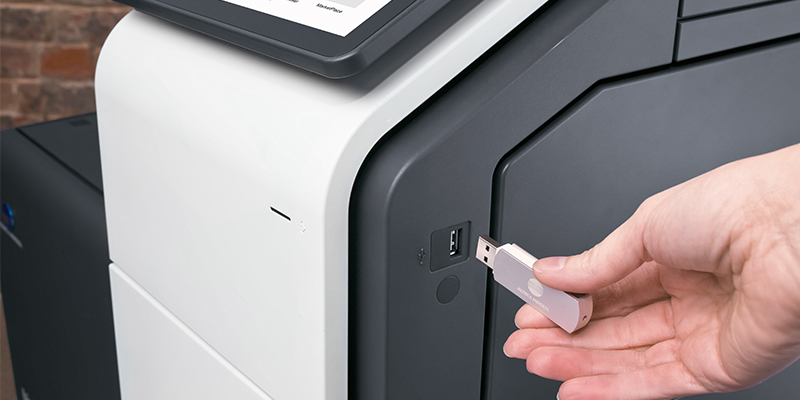 The i-Series' Bitdefender anti-virus engine scans all transmitted and received data under NSA encryption standards and the General Data Protection Regulation, dealing with infected files almost immediately.
The Bizhub SECURE services enable businesses to tailor services to their specific needs, giving them complete flexibility.
Scalable to all sizes of workplaces- The bizhub i-Series from Konica Minolta includes multi-function printers with a variety of office printing capabilities and features.
These printers are designed for workplaces of all sizes, with features ranging from different paper feed trays and print or scan speeds to storage capacities. Printing in the workplace is now more efficient, thanks to single-pass duplex scanning speeds of up to 280ipm. Similarly, having all of the necessary services in one access point – which also allows for remote work – is a game-changer for productivity levels today.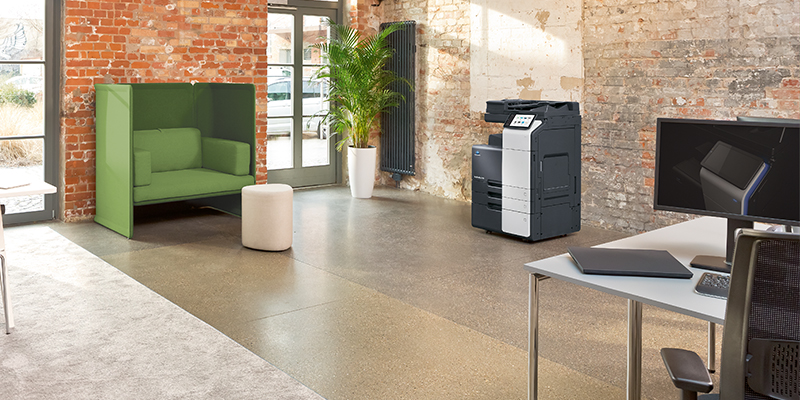 With Konica Minolta's award-winning bizhub i-Series multi-function printers, it can accelerate the printing output to improve the office productivity — by printing, copying, up to scanning with simple on-screen control, seamless software integration, and all the options you need for right-size scalability in any business.
---
How do you get started?
Konica Minolta's award-winning bizhub i-series color multifunction printers are created with the consumer in mind. Whether you are an executive in charge of corporate governance, an IT professional in charge of streamlining security and managerial processes, or a regular user who prefers simple interfaces, our color multifunction printers are designed to deliver productivity while incorporating cutting-edge technology and ease of use.
Here's a guide to get you started:
bizhub C650i / C550i / C450i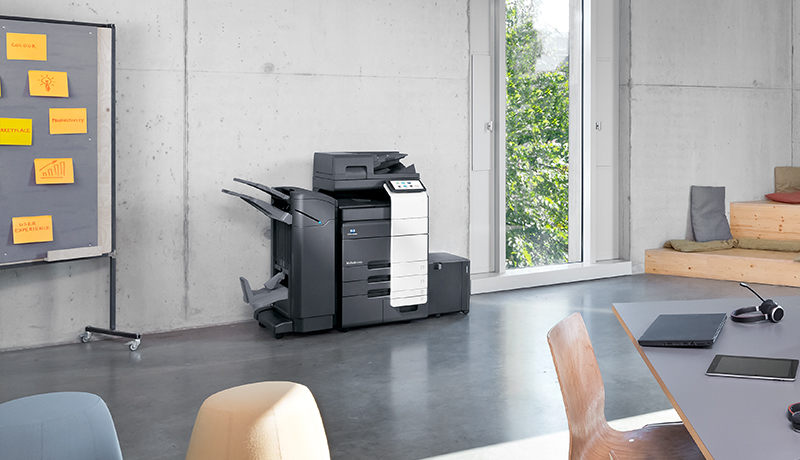 If you want to upgrade your office printer to the best, our bizhub C650i series of A3 color multifunction printers is a good place to start. It has modern functions that are required for fast, high-quality, secure, and even lightweight design-related printing in the office.
These printers also include extra features that allow you to work remotely while remaining secure thanks to an array of security features built right into the printer.
Top features:
Fast printing and copying speeds of up to 65/65 ppm
10.1-inch color touch panel with an intuitive interface and the option of a simple or advanced panel layout.
Modern security with a variety of security features ranging from Bitdefender's virus scan engine to multiple modes of user authentication.
Mobile printing for a hands-free experience, as well as remote printing
bizhub C360i / C300i / C250i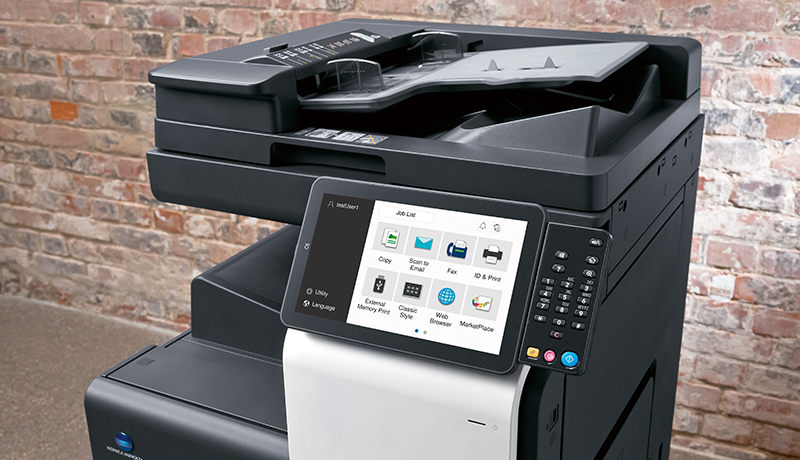 The bizhub C360i series is another printer option that complements the bizhub C650i line.
These printers are designed for workspaces that require the same capabilities as the best multifunction office printers Konica Minolta has to offer, but at a lower cost. They have lower but comparable print speeds for A3 (18/18 ppm) and A4 (36/36 ppm) printing.
Top features:
Higher scanning quality at 200dpi and 300dpi for simplex and duplex scanning
10.1-inch color touch panel with multi-touch support, similar to the C650i series
Enhanced data security with features such as Bitdefender's virus scan engine and memory data auto-deletion, which ensures data confidentiality during an unauthorized intrusion.

Remote printing capabilities enable users to manage and print their documents from anywhere.
bizhub C750i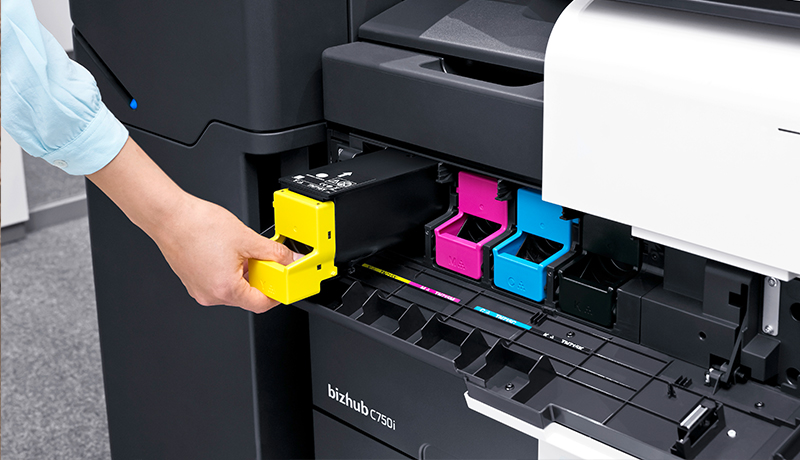 The bizhub C750i is the best A3 color multifunction printer on the market. This printer is ideal for an office that requires bulk but quick printing, as well as scanning quality that is second to none.
It is well-suited for workspaces that serve a diverse range of users while remaining compact enough for multiple physical space variations. Shared offices and flexible workspaces would benefit from a heavy-duty multifunction printer as well, as these locations serve a large number of users at the same time.
Top features:
Fast printing and copying speeds of up to 70/75 ppm
At 200dpi, the fastest scanning speed is 140/140 ipm for simplex and 280/280 ipm for duplex.
Data security, environmental safety, and mobile printing capabilities on par with the bizhub C650i and C360i series
The C450i/C550i/C650i is ideal for larger offices that require faster print speeds and more features, whereas the C227i/C287i are better for smaller offices that want results without sacrificing the bizhub i-Series experience.
---
Rethink your workplace
Fast-changing and results-driven, the business world today requires offices to stay ahead with quick turnaround times and reliability. Konica Minolta's bizhub i-Series takes these into consideration, presenting multifunction printers that do more than just consolidate services.
From enhanced security to higher productivity levels, these printers are reshaping the future of printing as we know it. Speak with an expert today.
---
Data Connect Technologies Pte Ltd is a dynamic ICT and Services Provider with over 18 years of experience in providing excellent IT support to companies all over Singapore.
Data Connect Technologies Pte Ltd is a Gold Partner of Microsoft and has recently been recognized as one of Singapore's Fastest Growing Companies 2021.