People in today's fast-paced world expect more technology to ensure a more productive, efficient, and effective workplace.
Traditional printing simply does not provide the level of flexibility required for employees to work from any device, at any time. Until now, printing has remained consistent over the years, most businesses continue to rely on standard Microsoft print servers, which are only accessible when a user is on the corporate network.
Konica Minolta strives to provide the best solution for its customers' needs while also enabling connected and efficient office work on a public cloud platform.
So, how do we redesign the modern workplace to allow people to not only work from anywhere and on any device but also print from anywhere and on any device?
---
Konica Minolta's Bizhub i-series and Microsoft 365
The powerful features brought by Konica Minolta's Bizhub i-Series MFP and the security + productivity benefits that come along with Microsoft 365's applications have now been seamlessly integrated for a more improved, more efficient, and secure workflow that defines the workplace of the future!
Microsoft 365 is the productivity cloud solution that helps you stay connected with your employees and clients whether you're working remotely or onsite. It offers built-in security features that lets you defend against cyberthreats such as viruses, malware, phishing attempts, ransomware and spam. It is also a single cost-effective and collaborative solution that lets you streamline communication tools, IT setup and management.
To further improve your office workflow, you can now connect Konica Minolta bizhub i-Series Multi-Function Printer (MFP) to Microsoft 365's various platforms. The bizhub i-Series MFP is the next generation technological hub that's been designed for the workplace of the future.
---
Scan with Microsoft 365
Microsoft 365, through Exchange Online, offers features that allow end-users to easily collaborate via email. Users can securely scan required documents to their respective mailboxes in Microsoft 365 by using the client submission endpoint.
Every device or application must be able to connect to Microsoft 365. The sender of messages from the device or application will be the email address associated with the account used to authenticate with Microsoft 365.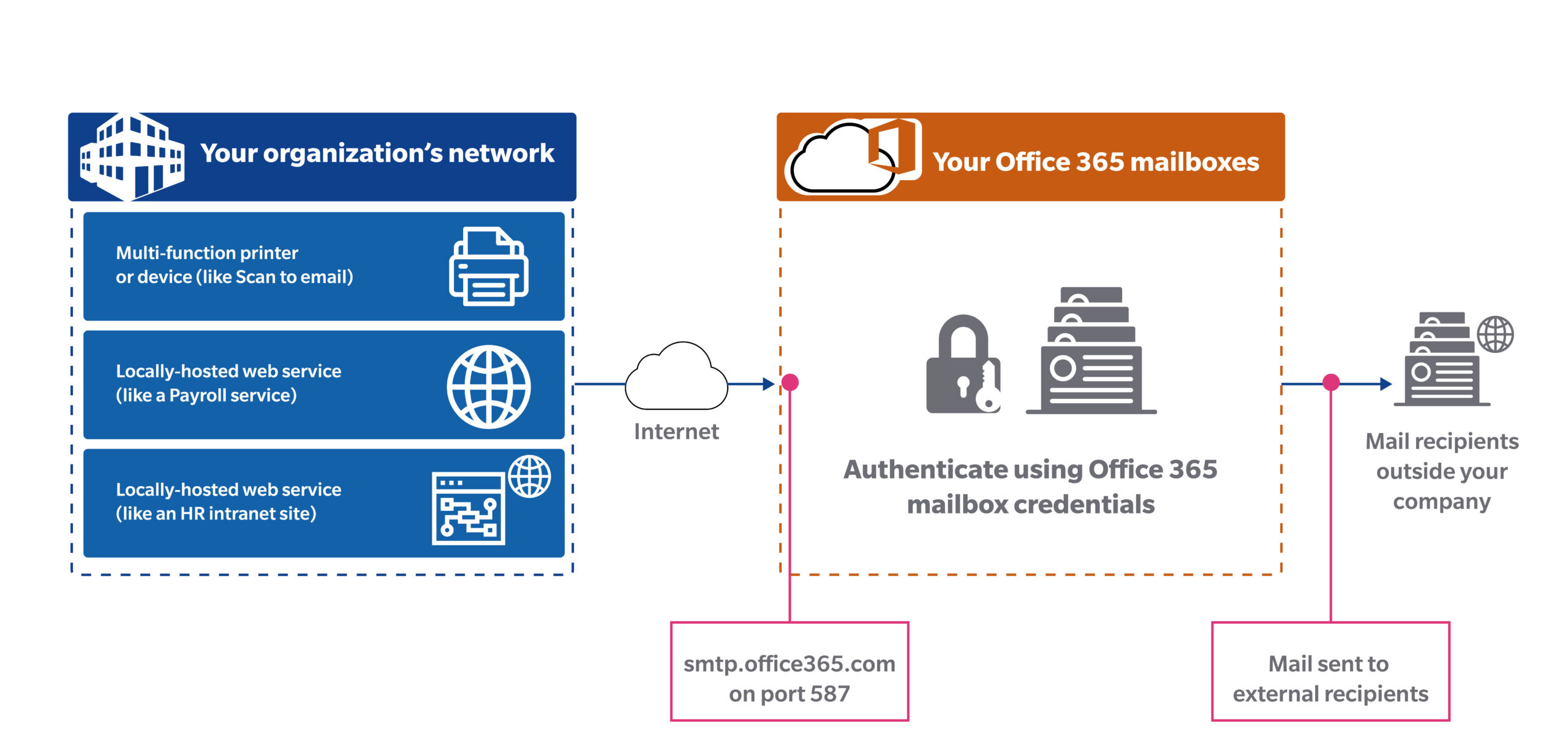 You can send email from any location or IP address, including your (on-premises) organization's network or a third-party cloud hosting service, such as Microsoft Azure, using this method.
---
Scan with Konica Minolta MarketPlace
Konica Minolta MarketPlace, with its "Powerful Technology at Your Fingertips," improves scanning experiences for users. Users can scan, browse, search, and print documents directly from Microsoft 365 using the Multi-Function Printer User Interface (MFP) and the MarketPlace Connector.
MarketPlace provides secure authentication via Multi-Factor Authentication to Microsoft 365, Microsoft Active Directory Authentication, Single-Sign-On, Multi-Function Printer (MFP) Authentication, or even a third-party application.
Konica Minolta MarketPlace, with new apps and features being developed all the time, will take your Multi-Function Printer (MFP) — and your business — to the next level.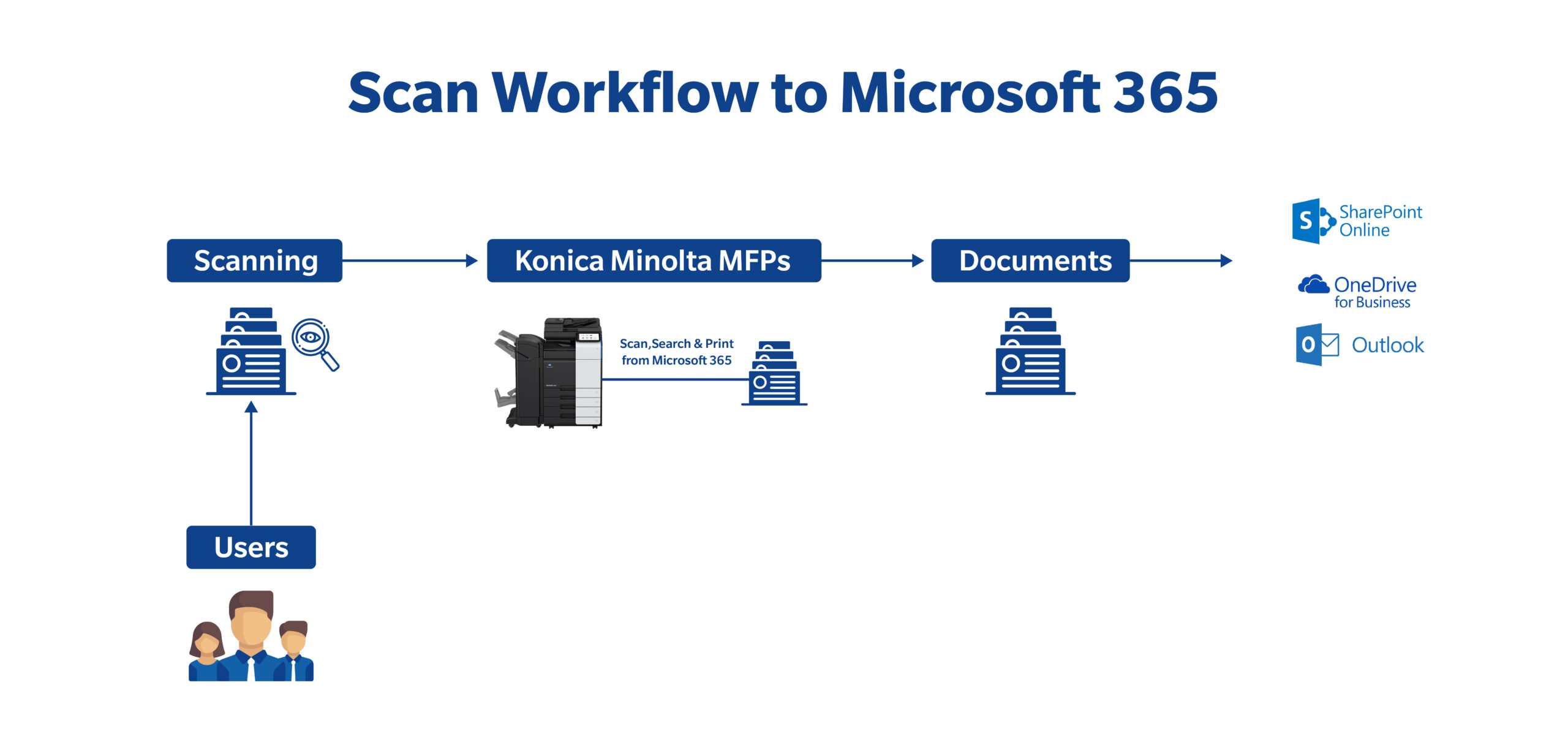 SharePoint Online, SharePoint (On-Premise), OneDrive for Business, and other applications are supported by the MarketPlace Connector.
---
Konica Minolta Cloud Printing with Microsoft Universal Printing
Microsoft Universal Print is an Azure-based print service designed to make printing quick and easy for end-users while also reducing the amount of time, effort, and management required to manage their print infrastructure through Microsoft cloud services.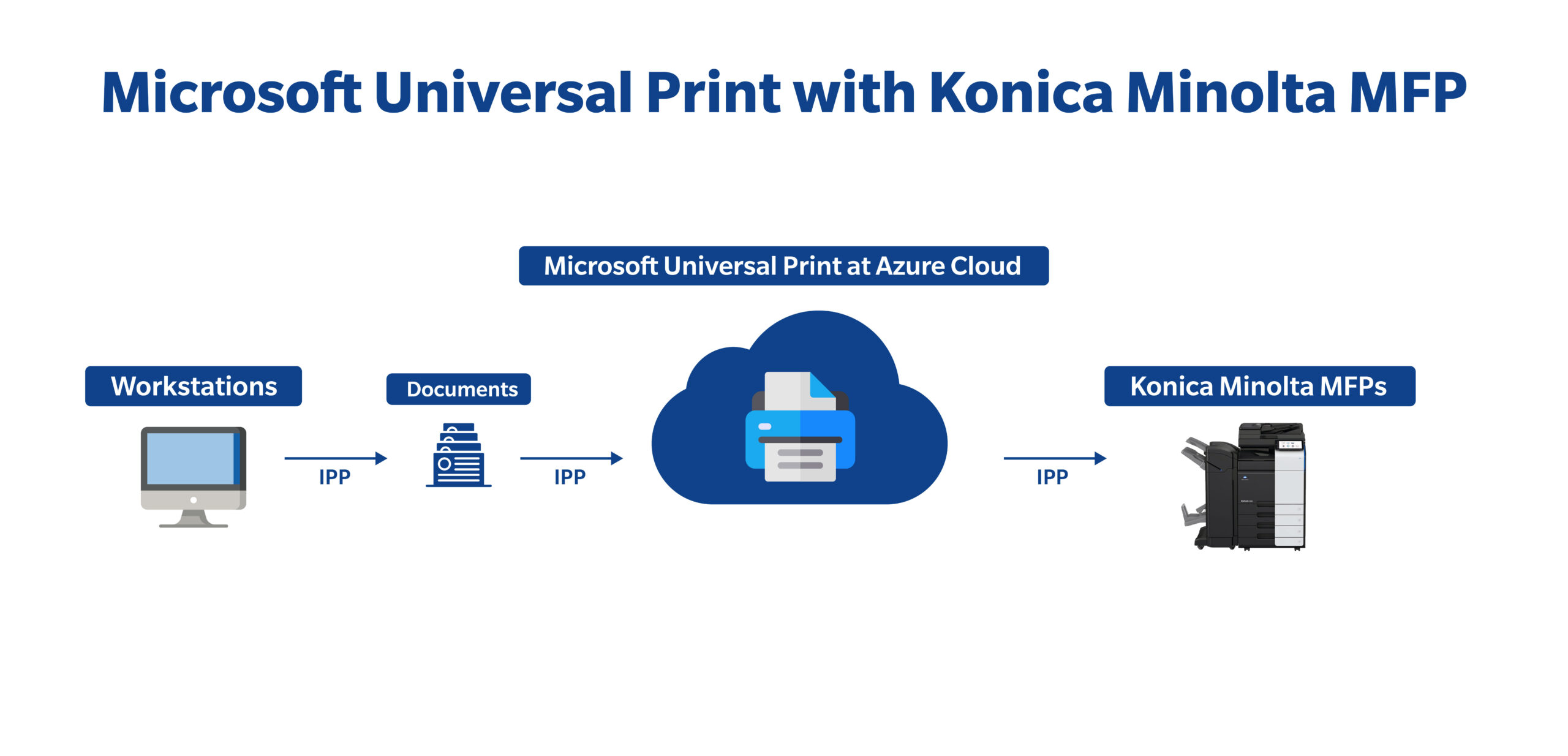 Konica Minolta provides solutions for using Microsoft's new Universal Print. The Universal Print is certified and can be used with Konica Minolta Multi-Function Printers (MFPs), and no on-premises infrastructure is required.
The following are the advantages of Microsoft 365's Universal Print:
Universal Print replaces the print server functionality of Windows Server.
1. It is entirely cloud-based in terms of setup, configuration, and management.
2. Users will have a similar Windows print experience.
3. It allows for the expansion of an ecosystem of managed print service providers.
Universal Print enables:
1. The ease with which IT departments can configure their organization's printers.
2. Users can print from any device with ease.
3. Reduce printing costs while maintaining business requirements.
4. Print with confidence using IPP and TLS.
A modern workplace includes more than just cloud printing. Microsoft, the industry's leading technology partner, is at the heart of its customer-centric approach, and together with Konica Minolta's strives to provide customers' satisfaction.
Final Thought
The office remains the focal point of daily operations – but building a future workplace is a difficult task. Unfortunately, it lacks the support and strategy that many businesses are attempting to implement to create a modern workplace. To meet the needs of modern offices and deal with challenges, efficiency and security are required.
With integrated cloud services that offer the right process at the right time, and heightened connectivity, the bizhub i-Series MFP and Microsoft 365 offers a more convenient and secure workflow for everyone.
---
Data Connect Technologies Pte Ltd is a dynamic ICT and Services Provider with over 18 years of experience in providing excellent IT support to companies all over Singapore.
Data Connect Technologies Pte Ltd is a Gold Partner of Microsoft and has recently been recognized as one of Singapore's Fastest Growing Companies 2021.