As we move closer to a future of connected and adaptive technology, Data Connect Technologies is setting the standard for industry-wide security measures—all to make sure your data is managed, shared, and secured most efficiently and securely.
In today's fast-paced business environment, information security is paramount with the increasing number of cyber threats, organizations need to take proactive steps to protect their valuable data and confidential information.
Data Connect Technologies is committed to offering clients the highest level of service possible at the core of our corporate culture and daily business activities. With this, we worked hard to ensure that our services meet the CSA's strict requirements for meeting cybersecurity standards.
Data Connect Technologies' Information Security Management System (ISMS) has been certified by TÜV SÜD PSB Pte Ltd according to ISO/IEC 27001: 2013. As we recognize the importance of information security and offer our clients a full range of solutions that cater to their unique demands and challenges.
We are pleased to announce that DATA CONNECT TECHNOLOGIES has met the measures of the CSA Cybersecurity Certification – Cyber Trust mark at Advocate Tier. This certification demonstrates our dedication to providing our clients with high-quality Provision of Office Productivity, Cybersecurity, Data Resiliency, and Cloud Architecture Solutions for Business Decisions and Operations.
The CSA Cyber Trust Mark operates on a risk-based method and is designed to assist organizations in implementing appropriate cybersecurity measures that align with their unique cybersecurity risk profile. An organization can take advantage of this system by executing the recommended cybersecurity practices through self-assessed risk analysis and participating in an audit conducted by TüV SüD.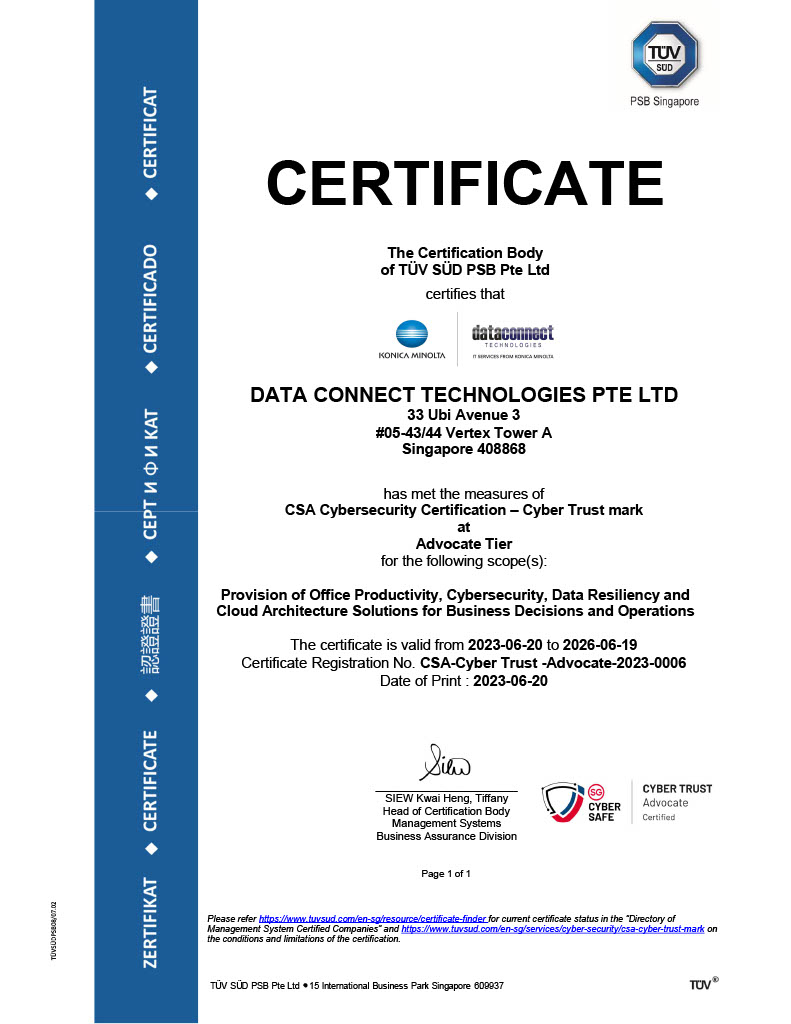 The CSA Cybersecurity Certification – Cyber Trust mark at the Advocate Tier is a significant step forward in our ability to continuously assess the cybersecurity challenges facing SMEs, as well as how critical compliance is to our clients and their businesses. Also, Data Connect Technologies would like to take this opportunity to thank our clients for their ongoing confidence and support with access to the latest resources, support, and certification, we are even better prepared to assist you in achieving your business goals and overcoming information security challenges.
---
ABOUT TÜV SÜD
In 1866, our founders had a bold vision to reduce the impact of technological risks and protect people, assets, and the environment. More than 150 years on, sustainability and safety continue to be the backbone of our mission and services. tuvsud.com
ABOUT CSA SINGAPORE
The Cyber Security Agency of Singapore (CSA) was formed in 2015 and has been given the task of protecting Singapore's cyberspace. It is part of the Prime Minister's Office and is managed by the Ministry of Communications and Information. csa.gov.sg
---
Data Connect Technologies Pte Ltd is a dynamic ICT and Services Provider with over 20 years of experience in providing excellent IT support to companies all over Singapore.